Please call when you arrive to the clinic. Masks are optional at this time.
About Us
Schultzville Animal Hospital was founded in December 2012. We started the practice doing house calls while our facility was being renovated. In August 2013 our building renovations were completed and we were open for business.
Dr. Abbey Jones VMD grew up on a small farm in Bradford county. Her experiences on the farm are what inspired her to practice veterinary medicine. She did her undergraduate studies at College Misericordia and then graduated from The University of Pennsylvania Veterinary school in 2005. Since graduating she has been practicing small animal medicine for 8 years. Dr. Jones has also practiced as an emergency relief veterinarian. She has always aspired to have her own veterinary practice and has worked hard to bring the current practice and staff together.
We pride ourselves in offering compassionate, personalized quality care for your dogs and cats. We believe in forming close relationships with our clientele, since your pet is a part of the family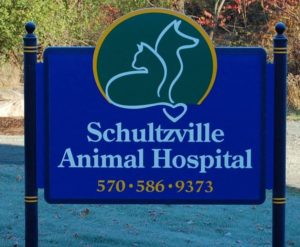 Our facility offers:
Onsite pharmacy
Surgical suite with full anesthetic monitoring capabilities
Dental suite with digital dental x-rays
Digital x-rays
In house laboratory
Wellness care
Preventative medicine
Geriatric care
Flea and tick prevention
E-pet health
Microchipping and much much more!
Visit our practice today at 1310 Winola Road, Route #307 or make an appointment at 570-586-9373 or drjones@schultzvilleanimalhospital.com