UPDATE
*COVID-19*
In order for us to provide you with our best during this trying time of the impending risk of the COVID-19, it is our responsibility to institute a social distancing policy effective immediately. This does NOT mean that we will stop providing services for you and your pets! Our primary goal is to keep all our staff and visitors to our hospital as safe from community spread of this virus as we possibly can. So as of now we will be implementing these protocols recommended by the American Veterinary Medical Association.
1. Please refrain from visiting us if you are sick, immune compromised, or have traveled outside the country or to other counties we kindly ask you to stay home. Please have a friend bring in your pet or reschedule for another time if not emergent. If you cannot find a friend/family member and your pet needs to be seen please call us from the parking lot and we will come and get your pet. That will help keep the waiting room clear of those possibly infected.
2. In order to prevent crowded conditions in our lobby and continue with the governor's recommendation to reduce social interactions and minimize spread of the virus, please do not come with multiple people. This includes children. We know that schools are canceled for the next couple weeks and we kindly ask that you leave your kids at home. If you are unable to do so, please contact us from the parking lot and we will gladly come and get your pet for the appointment while you wait in the car. We understand that child care at this time may be difficult and we appreciate your compliance.
3.Please try to call medication refills in with 24-hour advanced to give us adequate time to fill them. If you come any sooner, and your medication is not ready, we will ask you to come back the next day to pick it up. We cannot make any exceptions to this rule at this time. Also remember you can order food an medications through our online store located on our website(schultzvilleanimalhospital.com).
4. While it is very important for your pets to receive their yearly wellness visit, at this time we are asking clients to reschedule them for a later date. Along with this we will also be asking to reschedule all routine/elective surgeries, such as spays and neuters. Exceptions will be made on a case to case basis. If you have concerns over whether your pet's exam or surgery can be put off please feel free to call or email us.
Thank you for your patience with us while we continue to provide the best care for our pet companions. As always we are happy to answer any questions you may have. Please feel free to call or email us with your concerns and questions.
Sincerely,
Your Friends at the Schultzville Animal Hospital
About Us
Schultzville Animal Hospital was founded in December 2012. We started the practice doing house calls while our facility was being renovated. In August 2013 our building renovations were completed and we were open for business.
Dr. Abbey Jones VMD grew up on a small farm in Bradford county. Her experiences on the farm are what inspired her to practice veterinary medicine. She did her undergraduate studies at College Misericordia and then graduated from The University of Pennsylvania Veterinary school in 2005. Since graduating she has been practicing small animal medicine for 8 years. Dr. Jones has also practiced as an emergency relief veterinarian. She has always aspired to have her own veterinary practice and has worked hard to bring the current practice and staff together.
We pride ourselves in offering compassionate, personalized quality care for your dogs and cats. We believe in forming close relationships with our clientele, since your pet is a part of the family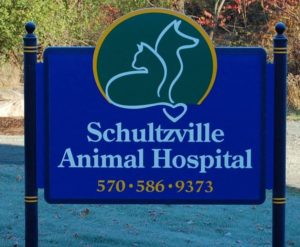 Our facility offers:
Onsite pharmacy
Surgical suite with full anesthetic monitoring capabilities
Dental suite with digital dental x-rays
Digital x-rays
In house laboratory
Wellness care
Preventative medicine
Geriatric care
Flea and tick prevention
E-pet health
Microchipping and much much more!
Visit our practice today at 1310 Winola Road, Route #307 or make an appointment at 570-586-9373 or [email protected]